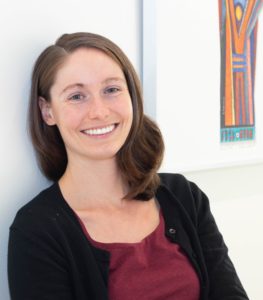 Welcome! My name is Madeline (Maddie) Gilbert, and I finished my PhD at NYU in 2022.  I currently work as a postdoctoral researcher at the Sorbonne Nouvelle/CNRS (project).  
My interests lie in laboratory phonology, phonological representations, and sociophonetic variability.  More specifically, I am interested in identifying surface cues to underlying structure that could be available to learners as they posit mental representations.  I investigate how the phonological grammar maps between surface and underlying forms, how phonological processes interact, and how acoustic variability affects phonological categories. 
My dissertation examines the phonetics and phonological behavior of a sequence of sounds undergoing change in Sevillian Spanish (pdf).  I have also done work on the phonology-morphology interface and sociophonetic variability in monolingual and bilingual Uruguayan Spanish.
Prior to NYU, I received my BA in Spanish from Middlebury College.  My senior thesis investigated the sociolinguistic variation of rhotics in Buenos Aires Spanish.
If you have questions, comments, or similar interests, I'd love to hear from you!